CHANGES Turn and face the strange, it's no game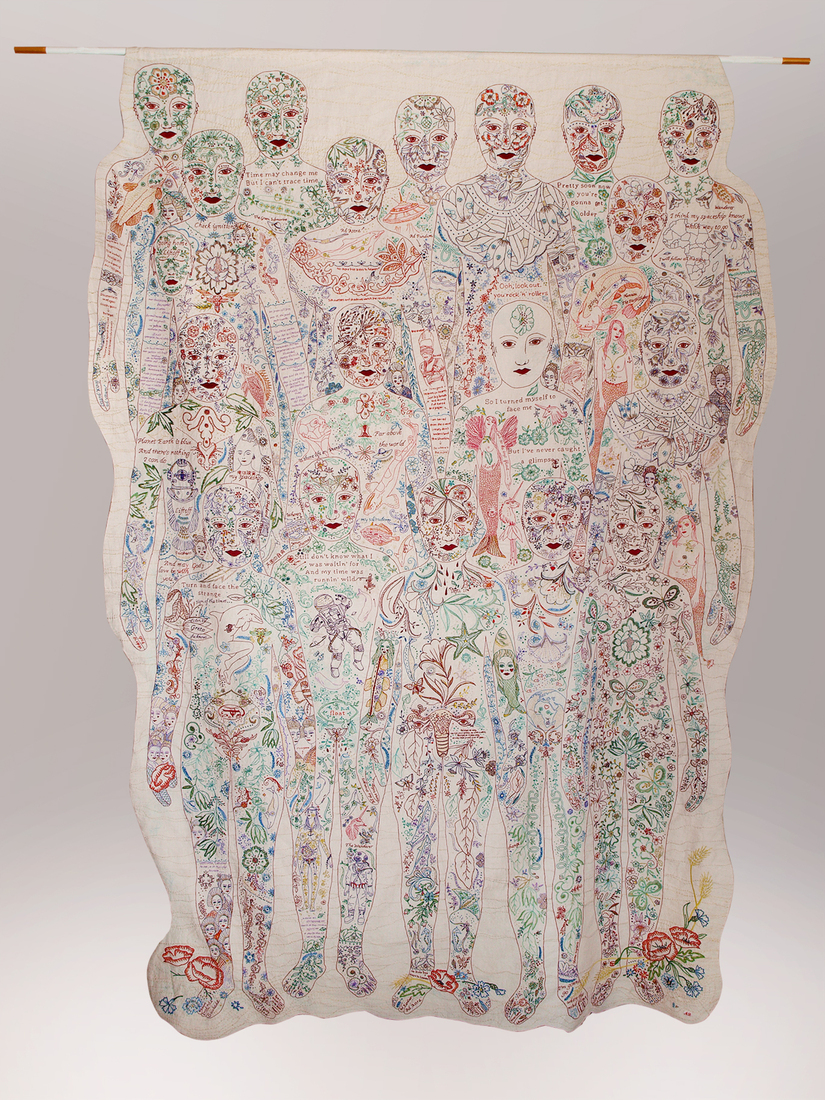 200 x 140 x 1 cm, © 2020, prijs op aanvraag
Ruimtelijk | Beelden | Textiel

Turn and face the strange, it's no game...
Technieken: Alleen borduurgarens
Opgedragen aan Hannie Sanjoto
Dit object is evt beschikbaar voor exposities.
I made a strange army of Lizard Kings and Queens, filled up with nature elements and lyrics of Bowie songs and some of my own poetry. It became a weird piece but for me, really an experience of totally change, my own feelings about the world and our planet we live on. We have to change our behavior and be a part of nature again. Growing together into the right direction in respect for each other and our planet. Making changes for my granddaughter and her generation. My inspiration came from tattooed people who sometimes use their whole bodies for their expression in ink. I also looked at tribal tattoos and saw clans tell a story about their origins and cultural heritage.
I used different threads to make this piece, and the cotton tablecloth I bought second-hand. It was the first time I've worked with 'disegni decalcabili con ferro caldo', old iron-on transfers. Hannie Sanjoto (our family mother) gave them to me. She had them in the closet for years and she thought that I could use them. At first I thought not to use them, but later I saw the possibilities to cut up the designs and make it my own. Hannie was surprised when she saw the first figure that I made of her transfers, unfortunately she died unexpectedly last year and could not see the work when it was finished, so I dedicated CHANGES to her.